Closed For The Holidays!
We are closed for the holidays — we are not accepting new clients during this time.
We truly appreciate you reaching out to us, and apologize for any inconvenience. If you need immediate assistance, we recommend contacting Michael & Son.
Happy Holidays! We will see you in 2018!
---
Featured Project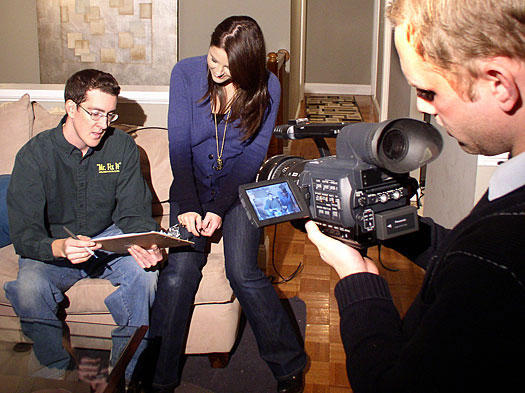 Jeff Herge, owner of Affordable Mr. Fix It, Inc., assisted with the taping of a Rachael Ray show in November 2008 in Herndon, VA. Jeff provided behind-the-scenes technical advice to Rachael Ray's home improvement segment host Kristan Cunningham. The segment, "The Unhandiest Couple in America", aired on the Rachael Ray show on January 5, 2009 and
June 19, 2009.
See more projects in the Gallery

---
About Us
Affordable Mr. Fix It promises prompt and dependable service at reasonable rates. Regular hours are Monday through Friday 9 AM to 5 PM with appointments after 5 PM as needed. We serve the Reston, Herndon, Sterling, Ashburn, Vienna, Fair Oaks, Oak Hill, Chantilly, Oakton, and Great Falls areas of Northern Virginia.
Contact us today for recommendations and estimates based on your individual needs.
Jeff Herge
Owner/Handyman/Realtor
15 Years Experience

Affordable Mr. Fix It, Inc.
P.O. Box 2392
Reston, VA 20195

Office: (703) 577-1815

Email: jeff@mrfixitnova.com


Testimonials
"I have used Affordable Mr. Fix It for several small projects in my home. Jeff and his crew are extremely professional and I would not hesitate to recommend their services. They show great attention to detail in every task. They are also friendly, punctual, and cost-effective. I will continue to use Affordable Mr. Fix It in the future."
— K. Wilby, Reston, Virginia
---
Licensing, Professional Affiliations, and Credentials
We are licensed in the state of Virginia (Class B license: VA 2705 112174), bonded in Fairfax and Loudoun counties, and insured.

---
Jeff Herge (Owner) is also a Realtor. To find out more, please visit HergeHomes.com

Jeff Herge - Realtor
RE/MAX Gateway
9990 Fairfax Blvd. Suite 160
Fairfax, VA 22030
Email: Jeff@HergeHomes.com
Website: www.HergeHomes.com